Stay inspired to be healthy.
Breaking Records And Making Waves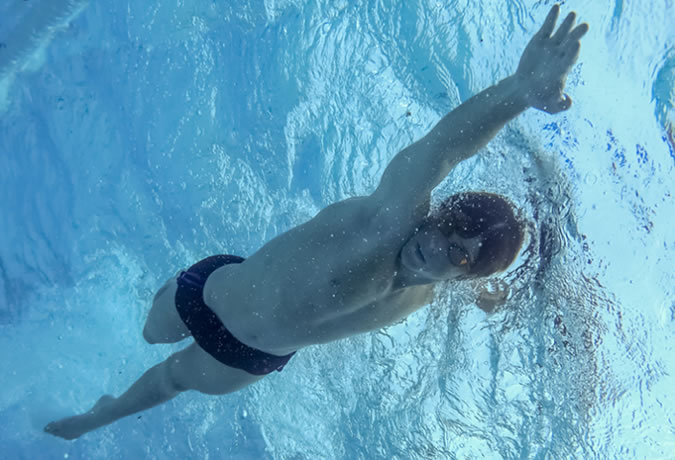 "He is climbing a mountain right now," Coach Robbie Fritcher says of 14-year-old FINS swimmer Michael Foley. "And the top, the apex, is what you saw on TV this summer." Fritcher is referring to the Olympic games.
Michael Foley could swim before he could walk, and began swimming competitively at the age of four. Currently, he swims for Franco's FINS and Jesuit High School's swim team. He recently broke the state record for both the 100-meter and the 200-meter backstroke, and was a mere 1/100th of a second from breaking the 50-meter freestyle record.
In August, Foley competed in the Southern Zone Championship alongside twelve of his FINS teammates under the direction of FINS Coach Robbie Fritcher. It was Foley's third experience with this high caliber meet and Fritcher's tenth year as the official coach for the Louisiana team. "Nationally, this is a very fast meet," Fritcher said.
At this high level of competition, the sport becomes what Fritcher calls "a pressure cooker." The difference between winning and losing, between breaking a record and falling short, often comes down to a fraction of a second. Even the smallest variation in a stroke, a breath, or a kick can make a big difference. "Everything factors in," Foley said, "what you eat, how much sleep you get, the amount of chlorine in the air." He admits that he gets nervous before these big meets, but says the nerves wash away when he gets in the water. "Once I start swimming, it's more about trying to push through. There is kind of like a wall, and it's in your head but it feels like it's in your stomach… And you've just got to push through that."
Fritcher is simultaneously pushing Foley to improve and reserving his maximum potential. "I stick him in all of the hardest events," Fritcher said, explaining that though Michael excels as a sprinter, he puts him in all of the long swims. "I'm holding him back; I'm creating that base."
In his thirty years of coaching, Fritcher has seen more than his fair share of burnout, and he works hard to maintain balance for his swimmers, to pace their progression, and to provide them with goals that are challenging but attainable. He believes burnout is mental, not physical, and ordered Foley to stay out of the pool for a month following the Southern Zone Championship meet. Foley, whose usual training schedule has him swimming for three hours per day, six days per week, was glad for the break. He maintained his superior physical condition during this time by running three times a week and boxing at Franco's Ringside Boxing Club twice a week.
Coach Fritcher is now preparing Foley for the next part of his climb, the Junior National meet, set to take place in December of this year.
He predicts that, in two or three years, Foley could make Nationals (the Michael Phelps level of competition).
Are the Olympics in his future? Foley's coach thinks so, but the young athlete stays humble. "I'm just trying to focus on the meets right now."